Top Universities in Kyrgyzstan | Higher education in Kyrgyzstan for Pakistani Students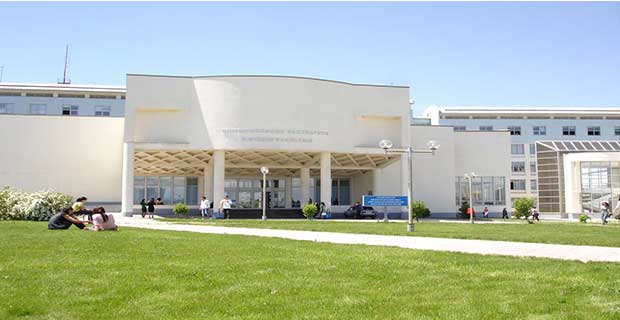 If you are willing to seek admission in Kyrgyzstan Universities, you have to fulfill the following requirements.
Higher Education in Kyrgyzstan
There are many prestigious universities located in Kyrgyzstan. These universities in Kyrgyzstan render their academic curriculum according to the Bologna Treaty under the obligations of Russian or US standards. Hence, the course structure, nature and frequency of exams, required credits are pretty parallel with renowned western universities. Students taking admission in degree courses from those universities which are affiliated with a foreign institution perhaps can earn a degree which is valid in Kyrgyzstan and the native country of the foreign institution as well. Degree courses , however, have varied completion time period like it will take 4-5 years to complete an undergraduate program while a Masters degree or a PhD program at least take 2 years to complete..
Top Universities in Kyrgyzstan
The following are some of the prestigious institutions in Kyrgyzstan.
1. Kyrgyz Russian-Slavic University:
several sources have marked this university as the top-ranked university in the country, it resides more than 11,000 students. These students are attending courses under 8 faculties including Natural and Social Sciences, Humanities, Engineering, and Biomedical Sciences etc. Russian is the official language of instruction. Students can earn all sort of degree courses right from the undergraduate level to a doctorate program.
2. American University of Central Asia (AUCA):
This is a unique liberal arts institution. It features a contemporary education program designed under US-style system. The system encompasses the liberal arts curriculum taught according to the assigned credit hours. Some of the key programs taught include European and American Studies, Anthropology, International and Comparative Politics, Psychology, and Sociology. The degrees awarded in Arts Subjects are fully accredited in the US. The mediums of instruction at this university are Russian and English.
3.Kyrgyzstan-Turkey Manas University:
one of the leading universities in the country enrolled almost 200 students. Several undergraduate, masters and PhD courses are taught at this university in miscellaneous disciplines like Sciences, Engineering, Veterinary, Agriculture, Arts and Theology. The mediums of instruction, however, are Turkish and Kyrgyz
4.Osh State University (OSU):
This University also offers Bachelors and Masters Degrees in diverse fields such as Law, Education, Social Work, Economics and International Relations. In fact, the university is popular for the Medicine program. There are two other medical schools affiliated with OSU. The university houses around 27,000 students.
5.Jalal-Abad State University (JASU):
JASU is primarily known for the programs in engineering subjects like Electrics, Electronics, Mechanical Engineering, and Hydrotechnic and Industrial building. These faculties are all-equipped with the latest technical mentoring strategies and are helpful in rendering major skills required to build and operate the hydroelectric power station. As a matter of fact, Toktogul hydroelectric power station is the biggest in Central Asia which was constructed 1960's. Besides engineering subjects, the university also renders courses in Other Languages (mainly Kyrgyz, Russian and English), Business and Economics, Zoology and Veterinary, and Oil and Gas Development and Operations. The university housed around 5,000 students.
6.Issyk-Kul State University:
This reputable institute offers 36 courses with around 7 faculties. However, Economy, Environmental Sciences, tourism and Ecology, Arts and Culture and Computer Sciences are the most prevailing. The university also holds a Nanotechnology Center and a Botanical Garden where students get a wide horizon for their researches. The university enrols 5,000 to 7,000 students
Admission Intakes
Admission generally begins in summer preceding September entry. Most institutions ask students to fill-up an application form with their particulars of secondary or vocational record. Institutions that render courses in English subjects require proper language test scores like TOEFL. Universities in Kyrgyzstan held their entrance exams in July. These universities, hence, are authorized to accept or deny any admission according to the scores gained in the entry test.
Requirements for Bachelors Program
• Certificate of Matric/O-level and Intermediate/A-level attested from the relevant board.
• Translation of Birth certificate in the required language.
• Passport size pictures.
• Computerized NIC
• Valid passport
• Statement of purpose.
•Bank statement as specified by the institution to show that you have sufficient funds to support your expenses.
•Any additional achievement like volunteering certificate. These certificates will boost your chances of admissions.
Requirements for Masters Program
•Attested photocopies and Recognized Bachelors degree attested from the relevant board of education.
•Valid Passport.
•Computerized NIC
•Passport size pictures
•Statement of purpose
•Resume/CV
•Work Experience (if required)
•Required Bank Statement to prove that you have sufficient funds to support yourself.
FlyUp Consultants® Pvt. Ltd.
Registered with SECP & FBR Govt. Of Pakistan.
Student
Adviser
& Consultant.
Cell:
+92-300-4888 642
(Call / SMS / Whatsapp)
Lahore Office:
Office No.144 Street #7 Marghzar Colony, Multan Road, Lahore, Pakistan.
Email: FLYUPEDU@GMAIL.COM
web:
www.MYFLYUP.com